Debi's Design Diary: How to Get an Amazing Layered Paint Finish
When you want to paint furniture with blended or layered colors, how do you even know where to start?
With so many options and techniques, it can be hard to figure out the best way to achieve the look you want. In this blog post, we will walk you through the process of painting furniture with multiple colors using Debi's Design Diary. I will show you how to mix different colors together to create a beautiful and unique finish! Once you understand how to create this unique layered paint finish, you will use this technique again and again. If furniture paint layering is a technique you've wanted to learn, you have come to the right place!
Table of Contents:
If you want to learn this technique using Miss Lillian's No Wax Chock Paint this post may answer your questions: https://tanglewoodsue.com/how-to-layer-paint-colors-on-furniture/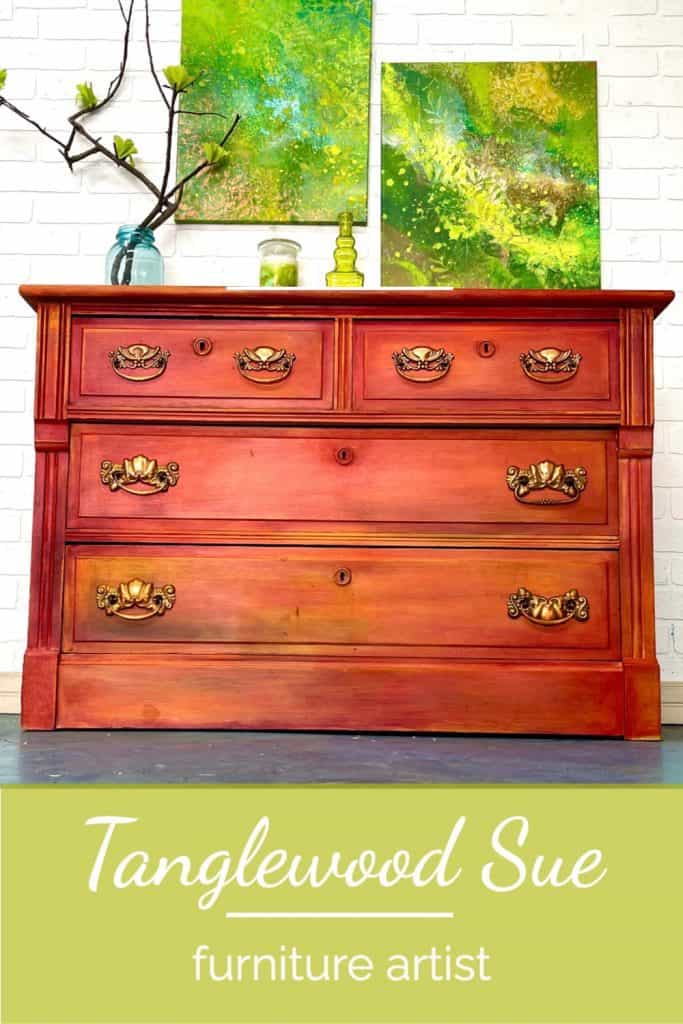 Whether you are new to painting furniture, or even if you're a seasoned pro, this tutorial will show you how easy it is to get great results with Debi's Design Diary DIY Paint. I will help you learn how to mix colors together to create a beautifully blended finish, as well as how to layer different colors to create depth and interest.
Are you a "DEEP dive" or "Glance and Go"
Now I know that some of you are visual learners and some of you just want to "Glance and Go"! I totally get this because as a creative I want you to give me just enough direction to run in that direction and I will only come back for the next "turn" once I get lost.
Honestly, my stepmom loves to give very detailed driving directions (even after we all got smartphones) and I would usually just ask North, South, East, or West? and then I jump in the car. I'll figure out the rest as I go. This is my approach for all things if you have not guessed yet.
For this reason, all of my blog posts include a step-by-step guide, a video tutorial, and even short-form videos you can use for jumping into your next furniture painting project. Not only that, but I include a table of contents so you can jump to what you need fast. In other words. I get it. I totally get it!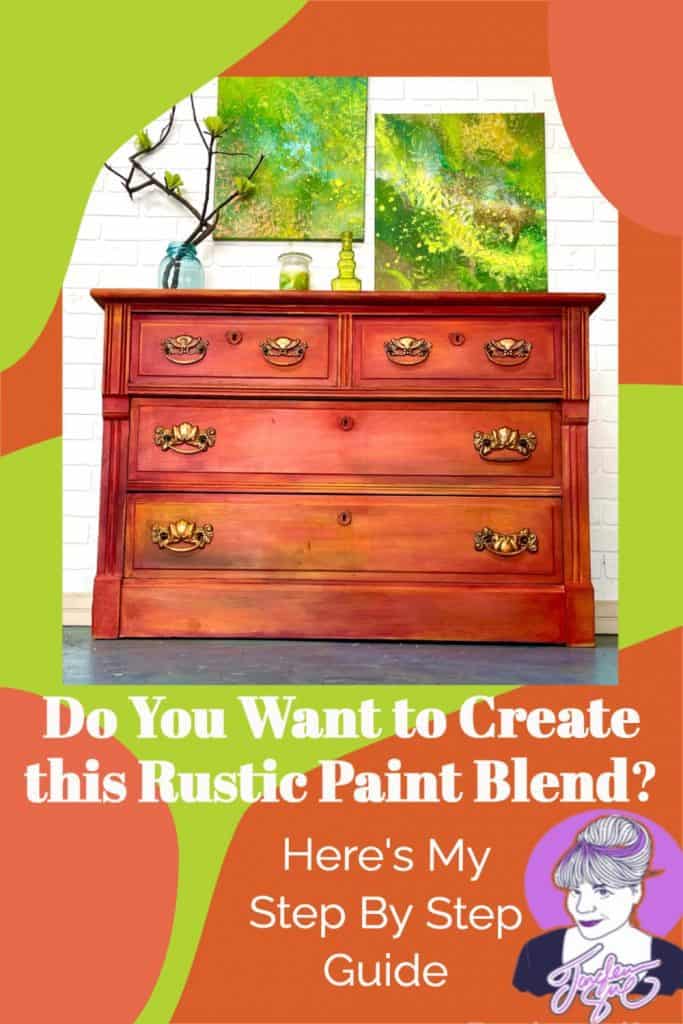 So let's get right to it. Are you ready to start layering your Debi's Design Diary DIY Paint?
If this is your first time here, Hello! Let me introduce myself and our project.
WHO: I'm Tanglewood Sue and I've had a furniture painting business for over 10 years and I love experimenting with all kinds of paint techniques which means I have learned A LOT that I can now teach you.
WHAT: Today, our customer desired a merlot-colored makeover for her antique oak dresser. Her house has a farmhouse feel to it, yet it also has enough Boho flair that she wanted some bursts of color to bring some individuality.
WHERE: My art studio is in Mt. Rainier MD, right over the DC border. If you are local you can. come by most Saturdays and pick up painting supplies right from me or you can order everything right from my shop at www.tanglewoodworks.com
WHEN: Now!
HOW? Now we get into it.
Skip right to the full LIVE tutorial here
So when a client wants a colorful furniture makeover we can go a couple of different ways. We can create a gorgeous modern design that screams art lives here! OR, as in this case, we can try to create a look that mimics a primitive paint finish.
Sidebar: Furniture painting is not a new thing people! Layering paint onto wood is a craft as old as furniture itself. Women have sent men off to gather clay and pigments since they had homes (or even caves) to decorate.
These days the supplies are just easier to source and even more paint colors!
For this client, we are creating a bold but still rustic and somewhat distressed paint finish.
I am choosing Debis's Design Diary DIY Paints (OMG why does the name of this paint have to be so damn long)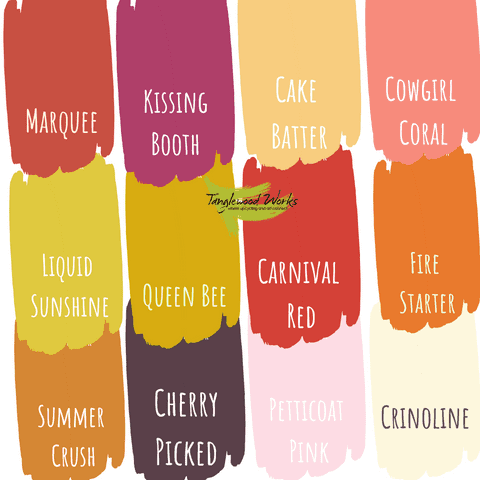 SUPPLIES:
Paint Colors
Liquid Sunshine
Queen Bee
Marquee
Summer Crush
Cowgirl Coral
*Ugly Color ( bohemian Blue and or gypsy green)
Debi's Design Diary Paint is like playing with finger paints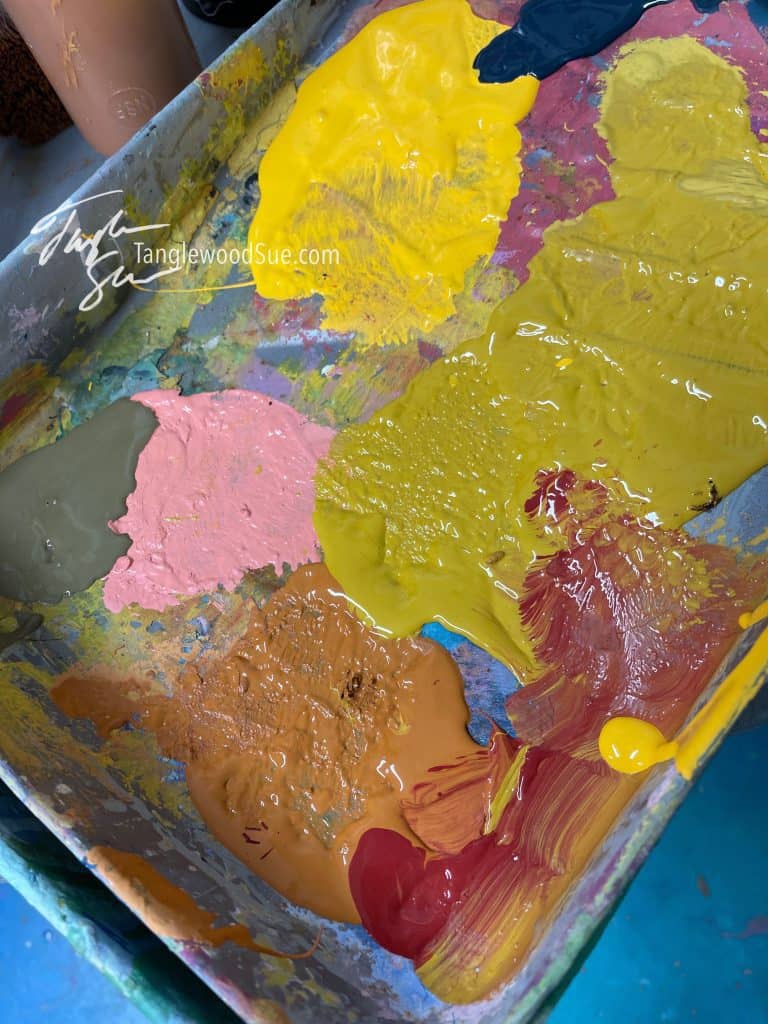 TOOLS:
Various Brushes (short, fat, soft, bristly)
Water mister
Rags
Sanding blocks (fine and medium grit)
Topcoats:
Debi's Design Diary DIY Wax
Miss Lillian's GIlding Jewels Ruby
Let's Start Layering this Furniture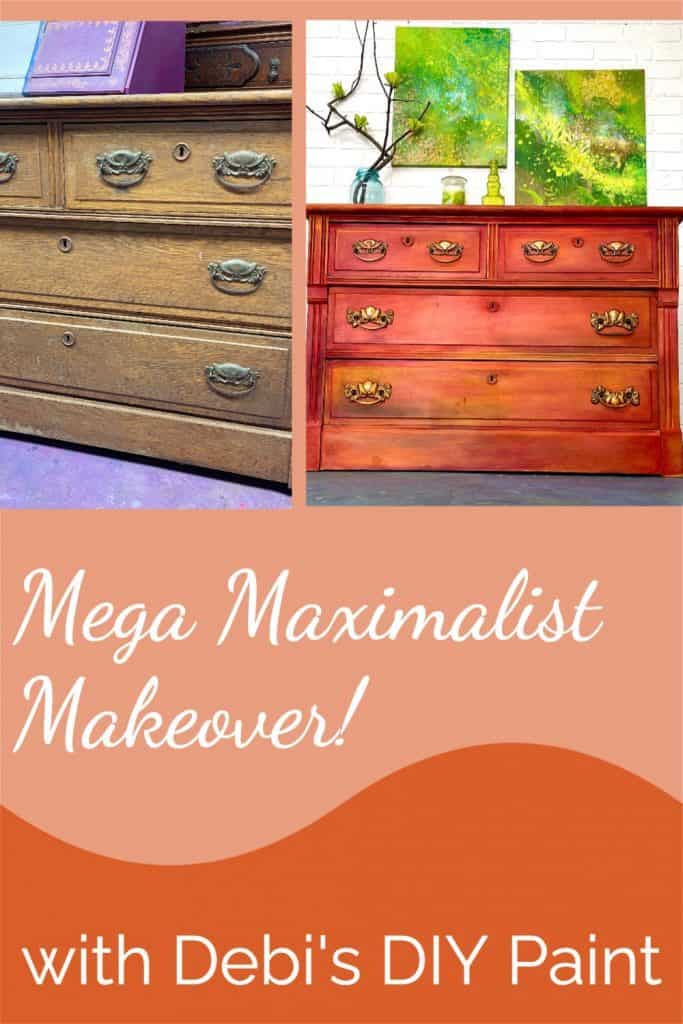 Here is our painting subject: An antique oak dresser that has seen better days…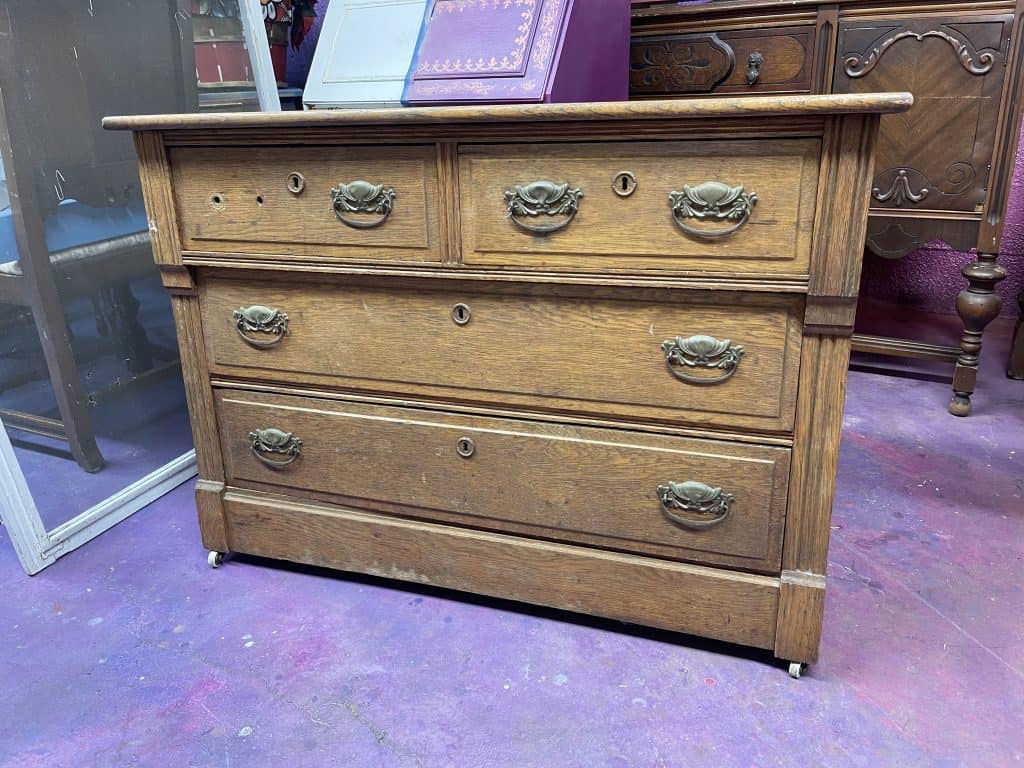 Step One: Cleaning & Prep
Clean your piece and prep for painting. Here is a great post and video on here to help you with this.
Step Two-Creating a Basecoat
Paint your base layer. This is your time to experiment with colors my friends. This layer will mostly be hidden when we are all done but that does not mean its not an important layer.
Pro Tip: If you are unsure how to get started with this process just pour all your colors out and start painting. I often don't plan where my colors will go. I just let the piece "tell me" what it needs.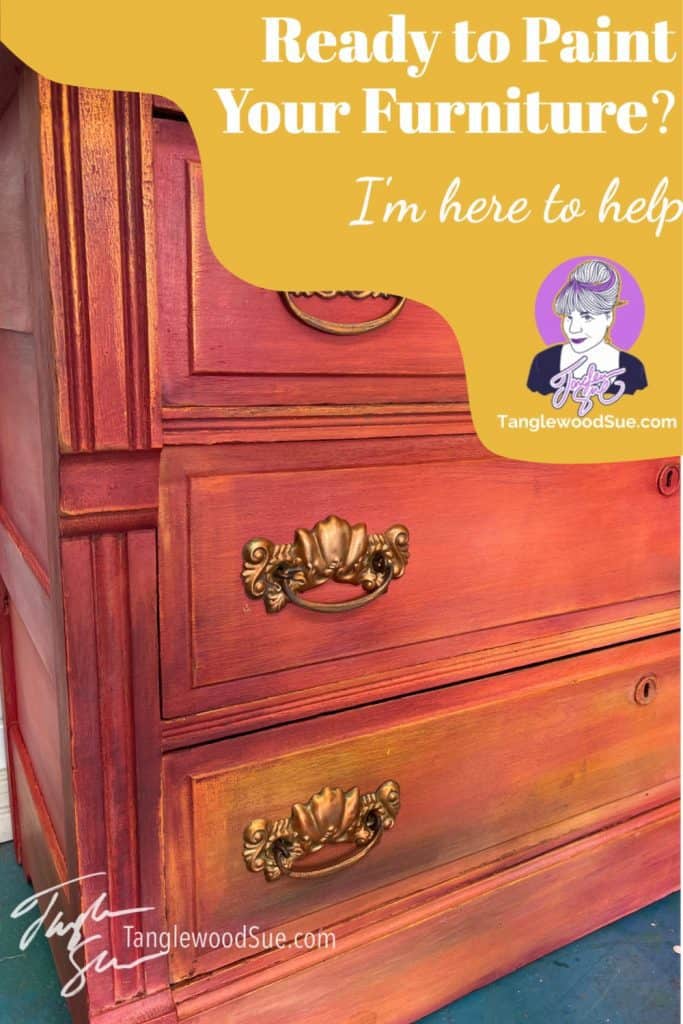 Start "blending with abandon" as I like to say. Mix your colors in the pan, on the brush or even right on the piece. Try different strokes and brushes. GO up and down or side to side. Just have fun here and get a feel for how you want to paint your piece.
Have Some Fun with your First Paint Layer
Step Three-Choose Light to Dark or Dark to Light
After your basecoat is completely dry we are gonna start getting serious about where these colors are gonna go. Now in this piece, I am creating a light base and getting progressively darker. This will ensure light highlights underneath my darker final tones.
Yes. You can totally reverse this process and paint dark tones that get progressively lighter. Its totally up to your creative vision. That's the beauty of working with this kind of chalk paint: you can just keep blending transparent layers on your painted furniture.
Mist (don't spray) your painted furniture and then put very little paint on your brush. You can even mist the brush! Now start painting this over your base layer. Using this painting technique will help you build up layers of colors.
I'm going for a Light Base to Dark Topcoat
If you've seen me paint furniture, I blend two ways, color to color and layer to layer
Step 4-Keep Adding paint Layers
Now its time to move progressively lighter or darker depending on the look you are going for. Just make sure that at the end of this process you no longer see any wood showing through. We want full coverage now even if some of our layers were thin and some were thick. In the video you can see that I am blending colors next to each other as well as blending my top layer with my bottom layer. I do this using a soft brush and a water mister.
At your final layer, you should be using a watered-down version of your intended color. My client wanted merlot and even though I painted primarily with gold and orange, this is the stage where I blend in a deep merlot color over the whole piece.
Step 5-Test and Sand
Now that you have a fully painted piece its time to test your blend and adjust if necessary.
I do this by applying a light mist over my whole piece which mimics the tonal change I will get when I apply the wax. Your piece will not end up this dark but the water will give you a sneak peep into the blend that you have created.
If certain areas are not working for you now is your chance to add more paint, wet distress or even sand back to reveal earlier layers.
Step 6- Apply your Topcoat of choice (Wax or Acrylic)
I will always choose wax when I am working with Clay based paints because of the way the wax penetrates the clay and creates almost a Venetian plaster effect. I can leave it matte or totally buff it out.
What it Looks Like When You Add Wax to Clay Paint
Step 7-Buff Out Your Wax to Create Texture
The last magical quality of Debi's DIY paint is how the texture of the paint gets accentuated with a wax topcoat.
For this layered painting technique, I did not smooth out my paint with water or with sandpaper. I left the texture for this next step. Once you add your wax layer and let it dry you can then burnish or buff the wax. Not only does the wax start to harden and get glossy, it creates visual striations of paint colors. This can be a bit jarring if you were expecting your paint to remain a slid color, but if you plan for this effect and work it into your design from the beginning the results are fantastic.
Look at How the Wax Elevates the Clay Paints
Now Just Stand Back and Admire Your Hard Work
So do you have some furniture projects in mind that you would like to try this technique on? I've listed all the supplies here for you and I'm available in the comment section if you have any other questions about using Debis Design Diary DIY Chalk and Clay Paint.
Here are the colors and tools that I used to create this layered p[aint finish. You can find my entire collection of DIY supplies on my shop site www.tanglewoodworks.com.